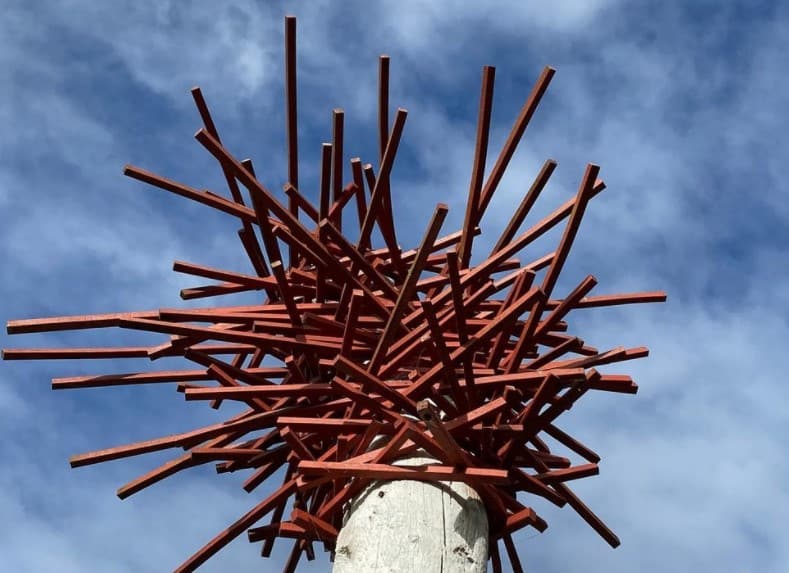 One of my best art experiences in 2021 was a visit to the Hidden Sculpture Garden, in Tapawera, Nelson. I came across David Carson's work in the Parker Gallery and several people said I should definitely put that on the list of must sees. It was a rewarding visit. Small sculptural works in the gallery and large scale works around the property. A small sculpture park, you can walk around it in 15 – 30 minutes, but the vitality, experimentation and reward were right up there. Get there!
David Carson's Q&A 
𝙃𝙤𝙬 𝙡𝙤𝙣𝙜 𝙝𝙖𝙫𝙚 𝙮𝙤𝙪 𝙗𝙚𝙚𝙣 𝙖 𝙢𝙖𝙠𝙚𝙧 𝙛𝙤𝙧? 𝙄𝙨 𝙢𝙖𝙠𝙞𝙣𝙜 𝙥𝙖𝙧𝙩 𝙤𝙛 𝙮𝙤𝙪𝙧 𝘿𝙉𝘼?
I have been making since I was quite young (8 or 10 years old), mostly utilitarian work/tools/
furniture) I do think making is part of who I am.
𝙃𝙖𝙫𝙚 𝙮𝙤𝙪 𝙖𝙡𝙬𝙖𝙮𝙨 𝙗𝙚𝙚𝙣 𝙖 ……..? (How d𝙤 𝙮𝙤𝙪 𝙧𝙚𝙛𝙚𝙧 𝙩𝙤 𝙮𝙤𝙪𝙧𝙨𝙚𝙡𝙛 𝙖𝙨 𝙖 𝙘𝙧𝙖𝙛𝙩𝙨𝙥𝙚𝙧𝙨𝙤𝙣, 𝙢𝙖𝙠𝙚𝙧 𝙤𝙧
𝙖𝙧𝙩𝙞𝙨𝙩?
I started making art around 1998 and have been exhibiting since 2001.
I call myself an artist .
𝙒𝙝𝙚𝙧𝙚 𝙙𝙤 𝙮𝙤𝙪 𝙘𝙧𝙚𝙖𝙩𝙚?
I have a studio/workshop here on the farm where I grew up, near Tapawera, Tasman District.
We have a sculpture garden here we open to the public and often my workplace spills out into it and
the wider farmscape.
𝙒𝙝𝙤𝙨𝙚 𝙬𝙤𝙧𝙠 𝙖𝙧𝙚 𝙮𝙤𝙪 𝙘𝙪𝙧𝙧𝙚𝙣𝙩𝙡𝙮 𝙚𝙣𝙟𝙤𝙮𝙞𝙣𝙜?
Lee Woodman's recent exhibition Lotus Eaters Lullaby at The Refinery Artspace, Nelson and Sam
Duckor-Jones' new work Gloria of Greymouth
𝙃𝙖𝙨 𝘾𝙤𝙫𝙞𝙙 𝙘𝙤𝙢𝙥𝙧𝙤𝙢𝙞𝙨𝙚𝙙 𝙮𝙤𝙪𝙧 𝙥𝙧𝙖𝙘𝙩𝙞𝙘𝙚?
Yes, but not as badly as for others I think.
𝙒𝙝𝙚𝙧𝙚 𝙘𝙖𝙣 𝙬𝙚 𝙛𝙞𝙣𝙙 𝙮𝙤𝙪𝙧 𝙬𝙤𝙧𝙠?
I have work at Parker Gallery in Nelson
Art Industry in Clevedon
The Hidden Sculpture Garden has the best representation of my work.
My website is www.davidcarson.co.nz