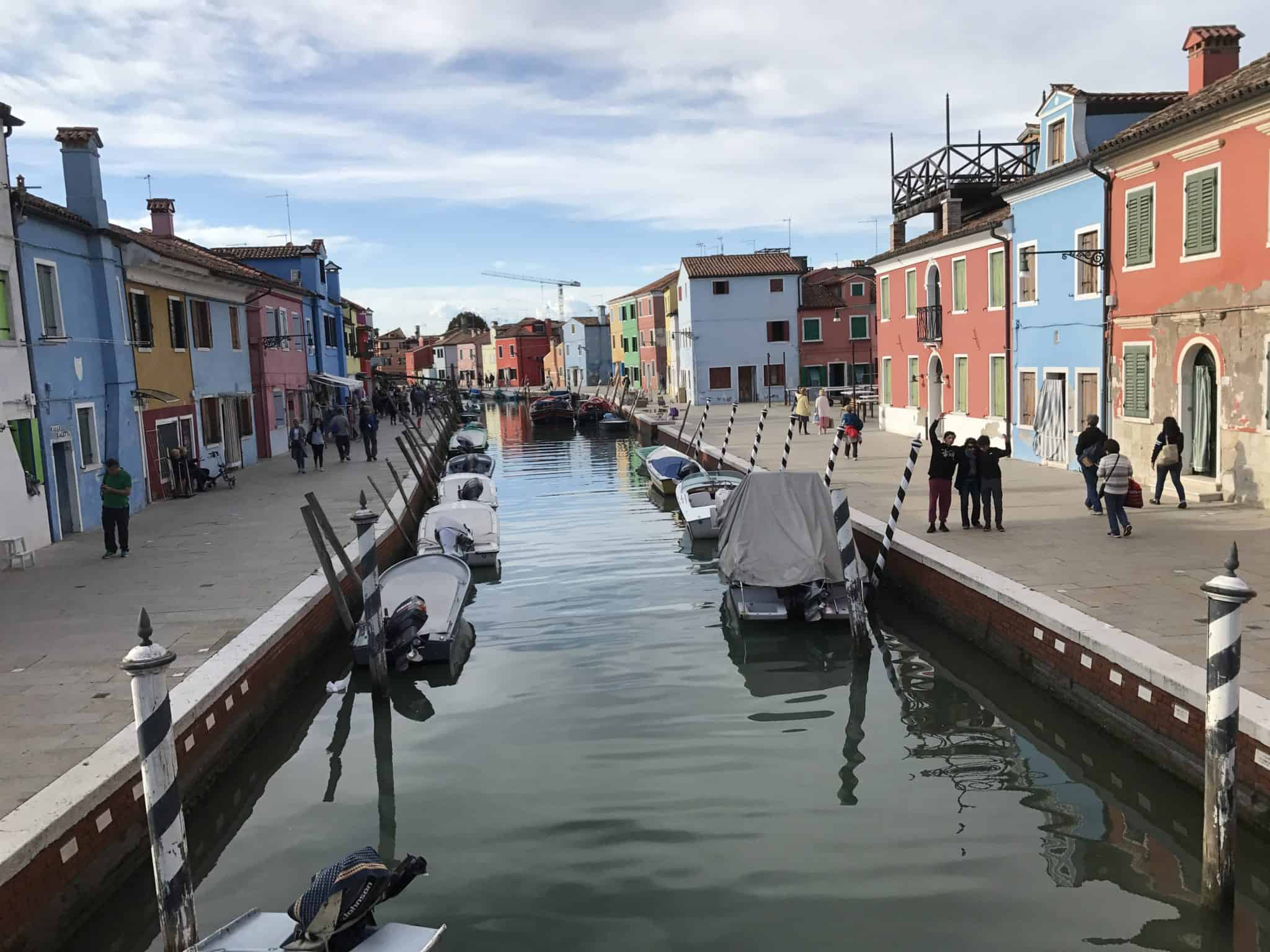 2019 VENICE BIENNALE AND VERONA
Based around the Biennale, our ten-day tour in September 2019 will offer a mix of cutting edge contemporary art, modernist architecture and rich Venetian culture.
Led by guide Jennifer Buckley, our small group of art enthusiasts will spend seven nights in Venice, taking in the Biennale exhibitions, collateral events, galleries and private museums.  With the help of some friendly locals, we will discover a few of the city's hidden gems and take a trip to one or two of the lagoon's picturesque islands.
From Venice the group will venture into the Veneto, visiting some of the region's architectural wonders including Palladio's Villa Capra in Vicenza, and Carlo Scarpa's sublime Brion Cemetery in Altivole, before finishing the day in the walled city of Verona. Spend your last full absorbing some of Verona's rich culture and monuments, among them Carlo Scarpa's masterpiece, the Castelvecchio museum.
Jennifer's knowledge of Venice and her understanding of the local language was a bonus. She is a keeper. A special day for me will be on the mainland when we visited the small town in the hills and had lunch on the hotel deck and got to talk with some of the locals. Loved Venice and felt privileged to be there. So many contrasts. The Modern Artworks in the old 14/15th century buildings. The magnificent artworks in the old churches.  
Well done Glen and Jennifer,
Enyth
A trip of a lifetime for any art lover and very professionally run.
David

Suggested itinerary
Day 1. Tuesday 17 September 2019
Arrive Venice and settle into your home for the next week. Hotel Ca Pisani* is located in Dorsoduro, next to the Accademia and a short walk from the Peggy Guggennheim Museum.
Overnight Venice
Day 2. Wednesday 18 September 2019
This morning make your way by ferry to the Giardini. Jennifer will introduce you to the Venice Biennale. You will spend the day exploring the many country pavilions and main exhibition hall.
Overnight Venice
Day 3. Thursday 19 September 2019
Discover the Arsenale today, and more key pavilions and works.
Overnight Venice
Day 4. Friday 20 September 2019
Visit a local market before spending the afternoon visiting Torcello and Burano Islands.
Overnight Venice
Day 5. Saturday 21 September 2019
Today experience some of the Biennale collateral exhibitions and other musuems.
Overnight Venice
Day 6. Sunday 22 September 2019
Finish off the Biennale with a return to the Giardini or Arsenale.
Overnight Venice
Day 7. Monday  23 September 2019
Join a friendly local for a walking tour this morning of some of the less visited areas of Venice.
Overnight Venice
Day 8. Tuesday 24  September 2019
Today we depart Venice for the Veneto, and visit Possagno where you will find Canova's Gipsoteca, Altivole to take in the magnificent Brion Tomb by Carlo Scarpa, and wander the pedestrian precinct of Vicenza in search of Palladio. Late afternoon we arrive in Verona.
Overnight Verona
Day 9. Wednesday 25 September 2019
Explore Verona today, including Castelvecchio. This beautiful building was restored by Carlo Scarpa.
Overnight Verona
Day 10. Thursday 26 September 2019
We bid our farewells and depart to Milan where you can spend time, head home, or off on the next part of your adventure.
Inclusions:
7 Nights at Hotel Ca Pisani Design Hotel (or similiar) in Venice including breakfast
2 Nights in Verona including breakfast
All transfers by bus, ferry and vaporetto as per the final itinerary
All gallery and Venice Biennale tickets
Jennifer Buckley as your guide
A tour manager
Exclusions:
International Airfares
Travel Insurance which is mandatory
Any museum entrances not included in the final itinerary
Any meals not included in the final itinerary
Details
Suggested cost to budget: $6999 – $7599 per person twin share – Single Supplement available
Guest 10 – 14 guests / Minimum Numbers apply of 10 guests
Deposits of $1500 are required to confirm your place. An interim payment will be required and full payment approximately 01 July 2019.
 *Your itinerary is subject to change.
House of Travel Terms and Conditions apply, including deposits, payment schedule and cancellation. Contact us for further details