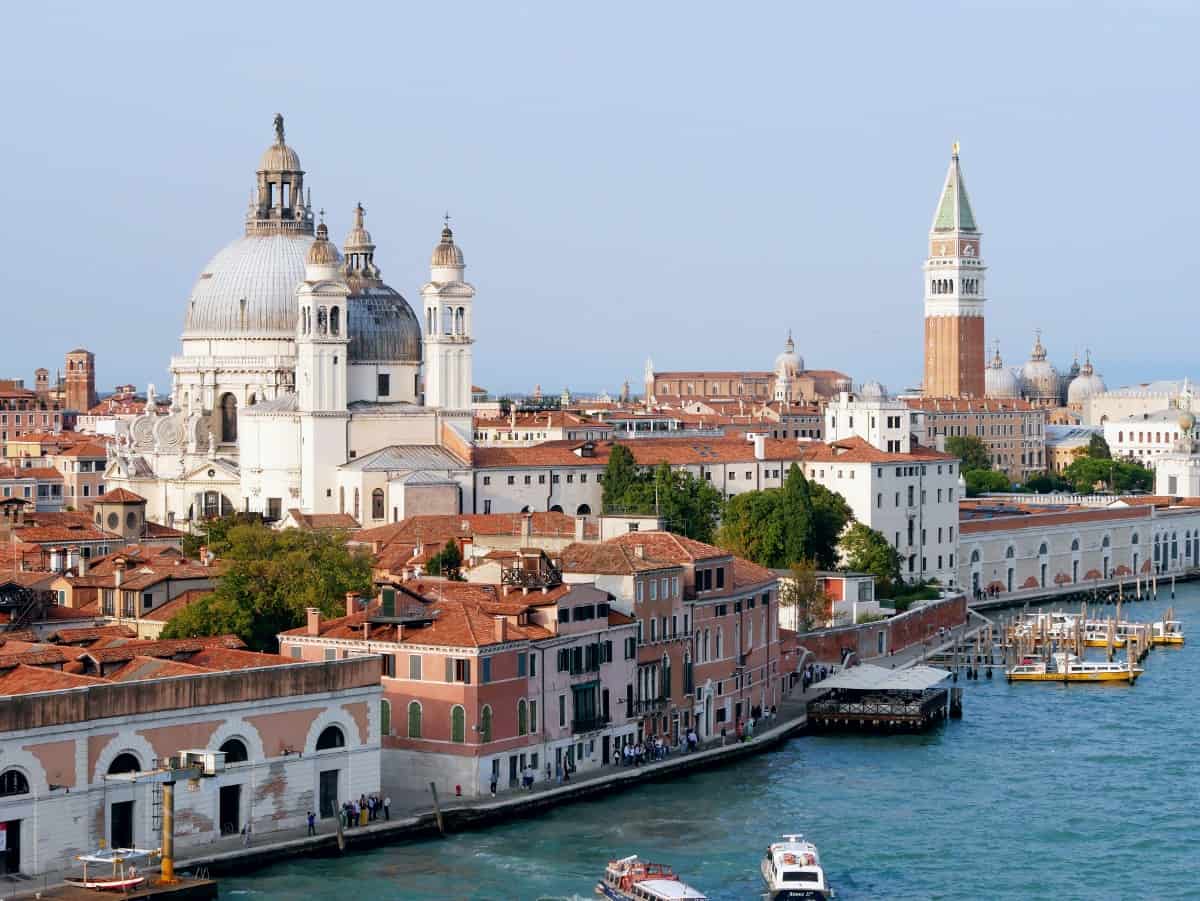 Art and Culture of Northern Italy:
The Venice Biennale, Bologna and Milan
22nd September – 6th October 2024

Join Claire Chamberlain and ArtTravel on our visit to Italy, with a focus on the north.
Download the full itinerary here
Claire says;
Our art tour to northern Italy really is going to be the best of both worlds.

I am excited to lead you to the places that present the zenith of historical and contemporary art.

We will have the opportunity to experience La Biennale di Venezia and at our leisure.
I know Venice and the Castello area very well, where the two main sites of the Biennale are located, having spent six weeks working there plus multiple visits.

We'll be wending our way under the sotoportego (under building passageways) and up, down and along the narrow streets of the more secret Venice (and of course stopping for spritz and cicchetti).

On our journey from Venice to Milan, the art of the Renaissance will be in front of us, from Giotto's ground-breaking frescoes of the 14th century to Mantegna's innovations in space and form which culminate with the works of the cinquecento (sixteenth century).

We'll have our fifteen minutes with Leonardo's 'Last Supper' in Milan and understand the contexts which drove the Bellini (and sample the drink named after the family of artists) to experiment with colour and understand who's missing in Piero della Francesca's stunning Brera altarpiece.

We'll visit osteria, trattoria and ristorante across our cities and understand how regional food culture still reflects civic identity.
I'm also excited by the opportunities that are outside our planning and how we'll right there to see, hear and experience them.
 This tour will encompass art, both historical and contemporary, architecture, including churches, palazzi, classical ruins, interior design, culture, landscape and gardens, music, food, theatre, people and places.
Show me the list of currently included highlights**
Venice
·         Seven day pass to La Biennale di Venezia
·         Seven day vaporetto pass
·         Gallerie dell'Accademia
·         Peggy Guggenheim Museum
·         The Olivetti Showroom designed by Carlo Scarpa
·         Gallery Victoria Miro
·         Giorgio Cini Foundation on Isola di San Giorgio Maggiore
·         Cafe Florian
·         The Prada Foundation
·         Optional after hours tour of Basilica San Marco
·         Optional operetta at Musica Palazzo on the Grand Canal
·         Pinault Collection at Punta della Dogana and Palazzo Grassi
·         Walking tours islands of Mazzorbo and Burano with sunset return
·         Palazzo Querini Stampalia – collection, gallery and Carlo Scarpa watergate
·         Palazzo Grimani
·         Fortuny Museum
·         Basilica di San Pietro and its leaning tower.
·         Chorus Pass to access 15 Venetian churches
Bologna
·         Piazza Maggiore
·         The Municipal Art Collections – Palazzo d'Accurso
·         Neptune Fountain
·         Two Towers of Garisenda and Asinelli
·         Piazza della Mercanzia
·         Santo Stefano (complex of seven churches)
·         Sanctuary of the Madonna di San Luca
·         The Anatomical Theatre of the Archiginnasio
·         Galleria Cavour
·         MAST Foundation
·         MAMbo – Museo d'Arte Moderna di Bologna
·         Giorgio Morandi Museum
·         Giorgio Morandi's House
Milan
·         Leonardo's Last Supper at Santa Maria delle Grazie
·         Galleria Vittorio Emmanele – Prada Foundation
·         Duomo (Cathedral) with tour of the Duomo Terraces
·         Fondazione Prada
·         Brera Museum
·         Fondazione Stelline
·         PIRELLI HANGAR BICOCCA
·         Museum Pozzoli Poldi
Day Trips
·         Day Trip to Padua
·         Giotto's Scrovegni Chapel with extended visit
·         Mantegna's Ovetari Chapel in the Church of the Eremitani.
·         Walking tour of historic centre including Basilica of Saint Anthony
·         University of Padua botanic gardens and Prato della Valle
Day Trip to Ferrara
·         Walking Tour of the historic centre
·         Este Castle (exterior)
·         Palazzo dei Diamanti (exterior)
·         Palazzo Schifanoia (interior)
·         Duomo
·         Osteria al Brindisi – "oldest wine merchant in the world" – established 1435
Day Trip to Mantua
·         Walking tour of the historic centre
·         Leon Battista Alberti's church of Sant Andrea
·         Ducal Palace of the Gonzaga rulers, including the Andrea Mantegna fresco decoration of the Camera degli Sposi/Room of the Bridal Chamber
·         The medieval rotunda of St Lorenzo
·         Andrea Mantegna's House
Day Trip to Bergamo
·         Walking Tour of the historic centre
·         Galleria dArte Moderna e Contemporanea di Bergamo (GAMeC)
·         Accademia Carrara
·         Funicular Access to Historic Centre
·         Museo delle Storie di Bergamo
·         Cappella Colleoni
**All inclusions subject to change